Invisalign® in Pensacola and Pace, FL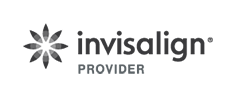 For many years, straightening your teeth often meant using large, bulky, and hard-to-maintain metal braces. Today, however, people have more options. This includes the innovative, clear option called Invisalign.
Invisalign is an orthodontic correction system that uses clear aligners to straighten teeth. It is virtually invisible, making it the perfect option for those patients who do not want the traditional look of braces.
Invisalign aligners are made with a special thermoplastic material called SmartTrack®. This patented material is safe, sturdy, and effective. Compared to metal braces, many people find Invisalign both more inconspicuous and more comfortable to wear. Plus, they're more convenient, as you can remove them to eat, brush, and floss!
Invisalign Treatment At Brooks Orthodontics
If you'd like to use Invisalign to straighten your teeth, the first step is to visit Dr. Brooks and our team in our Pensacola or Pace orthodontic office. Once you're here, he will use our iTero® digital impression system to take a precise but fast scan of your teeth. The scan makes it possible to create clear, comfortable aligners that will then be placed over your teeth. These aligners will exert pressure on your teeth and slowly but surely straighten them.
As your teeth move, you'll need to use new aligners to continue to straighten your smile. You'll usually get new aligners about every two weeks. Typically, you'll need to wear these aligners for about 20 or so hours a day. You'll also need to visit our Pensacola or Pace orthodontic office every six weeks so Dr. Brooks can monitor your progress.You'll often start to see results in a matter of weeks. However, it typically takes several months to completely straighten out your smile. Most patients need around 12 to 18 months, while some patients will enjoy a straight smile in a shorter time. If extensive straightening is needed, you will need to use Invisalign aligners for a longer period.
Is Invisalign Right for You?
The good news is yes! Almost all malocclusions can be treated with Invisalign. Dr. Brooks bases this determination off your records and the benefit vs reward of clear aligner treatment. We want to be transparent about all aspects of your treatment. If Invisalign treatment isn't going to yield the best results possible, we'll let you know what your expected outcome is and allow you to make the final decision about what is right for your own smile.
Contact Us Today
Visit your trusted orthodontist, Dr. Glenn Brooks, at Brooks Orthodontics in Pensacola and Pace, to learn more about Invisalign treatment. He and our team would be happy to assist you in learning about all your teeth straightening solutions.
Invisalign and the Invisalign logo, among others, are trademarks of Align Technology, Inc., and are registered in the U.S. and other countries.